"What is anting", you ask?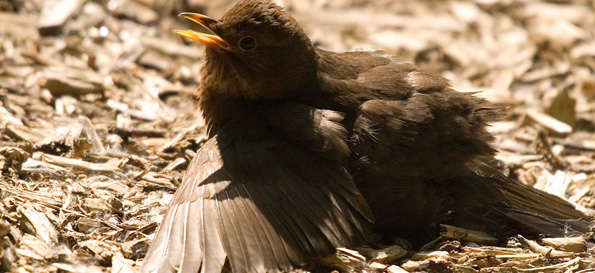 This behaviour is part of many a bird species cleaning regime. Anting occurs in two different forms and it does not always involve ants. Anting occurs either as active anting, in which the bird picks an ant up and applies it to its plumage, or passive anting. Normally, the ant during active anting will be stroked along the feathers, usually the flight feathers. Starlings actively seek out Formicine ants which suggests that the ants' ability to spray formic acid is an important consideration. It has been observed by many people that during anting the birds appear to get exceedingly excited. After the ant has been applied to the feathers it is either discarded or eaten.
Passive anting involves the bird finding an ants' nest and lying down among the ants. Birds which are passive anters include Crows and Waxbills.
Blackbirds, Redwings and other thrushes exercise a flexible strategy, being either passive or active anters as the occasion or some unknown need takes them.
A dust bath or wash then finishes the job.