Adding fruit to your bird feeding setup may attract many of the fruit-eating birds that might not otherwise visit your seed feeders. Fruit can be offered in hanging feeders, nectar feeders, on platform feeders or in wire feeders that hold pieces of fruit or fruit suet.
Raisins, grapes, orange halves, apples, currants and cranberries can be used to attract a variety of fruit-eating birds. However, attracting fruit-eating birds can take time and patience. Here are a few tips:
• Keep your fruit fresh and your feeders clean.
• Mockingbirds can be territorial, so fruit feeders may need to be placed away from other feeders.
• Having native fruit-bearing plants makes it easier to attract fruit-eating birds to feeders.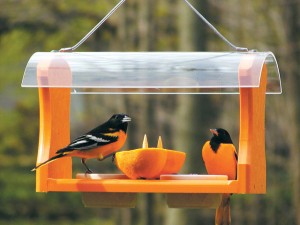 Some of the birds that like to eat orange halves are:
• Red-bellied Woodpeckers
• Northern Mockingbirds
• Brown Thrashers
• Orchard Orioles
• Baltimore Orioles
• Scarlet Tanagers
• Gray Catbirds
• Rose-breasted Grosbeaks
Grapes are particularly attractive to:
• Northern Mockingbirds
• Eastern Bluebirds
• Cedar Waxwings
• Gray Catbirds
• Scarlet Tanagers
• Rose-breasted Grosbeaks
• House Finches
• Robins
• Towhees
Raisins are particularly attractive to:
• Eastern Birds
• Northern Mockingbirds
• Gray Catbirds
• Eastern Bluebirds
• Cedar Waxwings