Squirrel Facts
• Squirrels spend a lot of time and energy eating. They eat more than their body weight in food each week.
• Squirrels can eat their own body weight (approximately 1.5 pounds) every week.
• Squirrels have been known to gnaw on electrical wires and have caused financial damage and power outages in some cases.
• Squirrels can jump a distance of up to 20 feet. They have long, muscular hind legs and short front legs that work together to aid in leaping.
• The hind legs of squirrels are double-jointed. This helps them run up and down trees quickly.
• They have the ability to cling from objects with their back foot toes (with support from their tail) which allows them to hang upside down and use their front paws to stuff their faces.
• Squirrels have a highly elevated olfactory sense; they can smell food from great distances. This, of course, makes it easy for squirrels to detect the food we put out for the birds. You may see squirrels "running" away with food from the feeders. Squirrel frequently hoard food for a later time. Finding the food they hoard is mostly dependent on squirrels smelling where it has been hidden.
Not Feeding Squirrels
People either love squirrels, tolerate them, or hate them. Many people complain that the squirrels are eating the birds' food and destroying the bird feeders. We can suggest squirrel "proof" feeders (feeders that eliminate the squirrels), creating a squirrel "proof" set up (setups that baffle the feeders) or making existing feeders squirrel "proof." In all situations we can help people deal with squirrels and better enjoy the hobby of bird feeding.
Safflower can also be used in feeders to discourage squirrels (and blackbirds) from eating from the feeders. Safflower is only effective if used exclusively in the feeder. Try feeding the Mill Creek Squirrel Free mixture.
Feeding Squirrels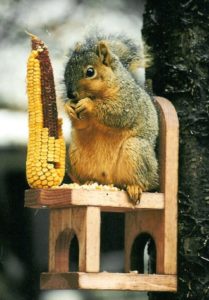 Providing foods for the squirrel may deter them from bothering the bird feeders. For others, feeding squirrels is actually fun.
It is recommended that people who feed the squirrels place food away from window sills or door steps so as to discourage squirrels coming through screens or doors into houses. Feeding stations for squirrels should also be placed away from the regular bird feeding stations. There are many good feeders for feeding squirrels. Birds attracted to nuts and corn may also visit these feeders.
Squirrels need a healthy diet with a proper mineral balance to prevent "metabolic bone disease" (MBD). Sunflower seeds are very deficient in the important mineral ratio squirrels need. Raw peanuts are unsafe as they contain a mould that is toxic to squirrels. Roasted peanuts are safer, but don't provide much nutrition and are deficient in the proper calcium to phosphorus ratio that squirrels need to maintain bone health throughout their lives. Squirrels gnaw on animal bones and deer antlers for calcium. You should provide some clean water. If you really want to give them a treat, make them some squirrel cookies or nut balls, which include rodent chow (cubed food). Crush the chow and stir with pieces of nuts and a handful of sunflower seeds, some hazelnut or walnut oil, cornmeal, suet and peanut butter. Add some flour and mix or knead well and roll the dough into balls with nuts or sunflower seeds and freeze it.
Squirrel Houses
Squirrels will live in many backyards. In the wild, they have no trouble finding appropriate homes in which to live, but, in urban areas where there may be a lack of trees, it is more of a challenge for the squirrels and the humans, if squirrels choose to nest in human dwellings. Squirrels nesting in human structures can cause damage to wires and insulation, and can increase unwanted noise, smells and parasites.
Placing squirrel houses in urban areas can help reduce the possibility of squirrels nesting in unwanted locations. Squirrel houses should be placed away from human dwellings at least 15'above the ground. They should face south and away from prevailing winds. Boxes can be cleaned in mid to late summer if there are no babies present.